Dinner and Drinks with Ace: Client Work and Concepts of Counseling
Dinner and Drinks with Ace: Client Work and Concepts of Counseling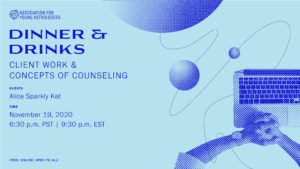 After a brief pause in programming, Dinner & Drinks is back in November with guest Alice Sparkly Kat, who will join us to discuss client work for young astrologers!
Client work is a fundamental part of astrology but can be intimidating for those early into their practice, and Ace will discuss how to approach client work, empowering young astrologers to become healers, and the tricky idea of who can counsel who.
Alice Sparkly Kat is an astrologer focused on counseling, healing, and untangling the structures of colonization from astrology. In addition to client work, teaching courses, and speaking engagements, they publish extensive research on astrology on their website at http://www.alicesparklykat.com/
Dinner and Drinks is a casual, Q&A based zoom event inspired by after-hours gatherings at astrology conferences. Grab a drink or snack and bring your questions for our guest of honor! This event is free, casual, and open to everyone.
Join us on Thursday, November 19 at 6:30pm PST, 9:30pm EST with this link: https://us02web.zoom.us/j/84986677899
If you can't join us live, all Dinner and Drinks events are available in the Dinner and Drinks Archive for AYA Members. Not a member yet? Learn more about the benefits here, or join now!