Dinner & Drinks: The Astrology of RuPaul
Dinner and Drinks is back in June welcoming Shawn Nygaard as our guest of honor! Join us on the evening of Thursday, June 27th.
Shawn is passionate about exploring RuPaul's natal chart. As we mark the 50th anniversary of Stonewall, it's a fascinating look at a queer person who blazed their own path. RuPaul has a natal Saturn in Capricorn and uniquely embodies the Senex and Puer dichotomy. It's a whole different way to rock Saturn.
Join AYA for a light-hearted (and serious) conversation about RuPaul, Drag, queerness, and the role of creativity in breathing life into planetary energies.
Find out more about Shawn – https://www.imagineastrology.com/about-shawn
Access the meeting on June 27th at this link https://zoom.us/j/961299102
Q&A with Rod Chang: Black Holes and the Galactic Center
Your favorite AYA Q&A event is back on April 27, this time on Saturday to reach our friends around the globe! Rod Chang is joining us to talk all about the new images of the black hole at the center of galaxy M87 near the Virgo galaxy cluster. This week marks the first time humanity has ever been able to clearly picture a black hole.
From these images, we can glean insights into the black hole at the center of our own Milky Way galaxy, known as the Galactic Center. It currently aligns with 27 degrees of Sagittarius on the ecliptic, and many modern astrologers detect a special energy at this degree ─ in some ways similar to a fixed star's charge ─ but in other ways in a league of its own.
Join us for an discussion about black holes and how to integrate the galactic center into your work with astrology charts and the dynamics of contact with the 27th degree of Sagittarius.
Rod and Jupiter Lai co-founded the Academy of Astrology (AOA), which is the premier school teaching western astrology in Asia. Rod Chang has over 20 years' astrological experience, and has studied at the UK's Faculty of Astrological Studies. In 2018, Rod was a guest tutor at the Faculty's Summer School at Oxford where he taught a workshop on the galactic center.
This event is the classic Dinner and Drinks format you know and love, this time accommodating brunch and tea times for our friends across the world's time zones!
MEETING LINK: https://zoom.us/j/802352550
Join us online on Saturday, April 27th:
10am – Los Angeles – Pacific Daylight time
11am – Denver – Mountain Daylight Time
Noon – Chicago – Central Daylight Time
1pm – New York / Toronto – Eastern Daylight Time
2pm – Halifax – Atlantic Daylight Time
2:30pm – Newfoundland – Newfoundland Daylight Time
2pm – Rio de Janeiro / São Paulo – Brazil Time
6pm – London – British Summer Time
7pm – Paris / Berlin – Central European Summer Time
7pm – Johannesburg – South Africa Standard Time
8pm – Moscow – Moscow Standard Time
10:30pm – New Delhi – India Standard Time
1am – Shanghai – China Standard Time
2am – Tokoyo – Japan Standard Time
3am – Sydney – Australian Eastern Standard Time
Dinner and Drinks with Cassandra Tyndall: Aversion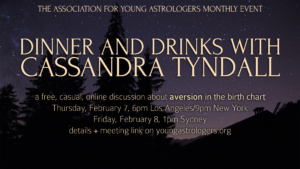 Join AYA for an online conversation with Cassandra Tyndall about the concept of aversion in ancient astrology, and how it can illuminate today's work with horoscopes.
In Hellenistic astrology, luminaries and planets cast 'rays of light', which enabled them to see certain houses and the planets occupying them. Sight was a crucial metaphor for the ancient understanding of the sextile, square, trine and opposition. But some houses could not be seen. What happens when the Lord of a house cannot see the sign it rules? Aversion illuminates the blind spots in a birth chart. Join us for a dialogue about how metaphors of vision and aversion can reveal connections between the house topics in the birth chart. Add this valuable tool to your delineation kit!
Click here to join the Zoom meeting on February 7: https://zoom.us/j/871157438
Join us online on Thursday, February 7th at
4pm – Hawaii – Hawaii Standard Time
6pm– Los Angeles – Pacific Standard Time
7pm – Denver – Mountain Standard Time
8pm – Chicago – Central Standard time
9pm – New York / Toronto – Eastern Standard Time
10pm – Halifax / Charlottetown – Atlantic Standard Time
10:30pm – Newfoundland – Newfoundland Standard Time
and….
Friday, February 8th
Midnight – Rio de Janeiro / São Paulo – Brazil Summer Time
2am – London / Greenwich Mean Time
3am – Paris / Berlin / Rome / Barcelona – Central European Time
4am – South Africa – South Africa Standard Time
5am – Moscow – Moscow Standard Time
7:30am – India – India Standard Time
10am – China – China Standard Time
11am – Japan – Japan Standard Time
11am – Korea – Korea Standard Time
1pm – Sydney / Melbourne – Australian Eastern Daylight Time
3pm – Auckland – New Zealand Daylight Time
Call for Submissions!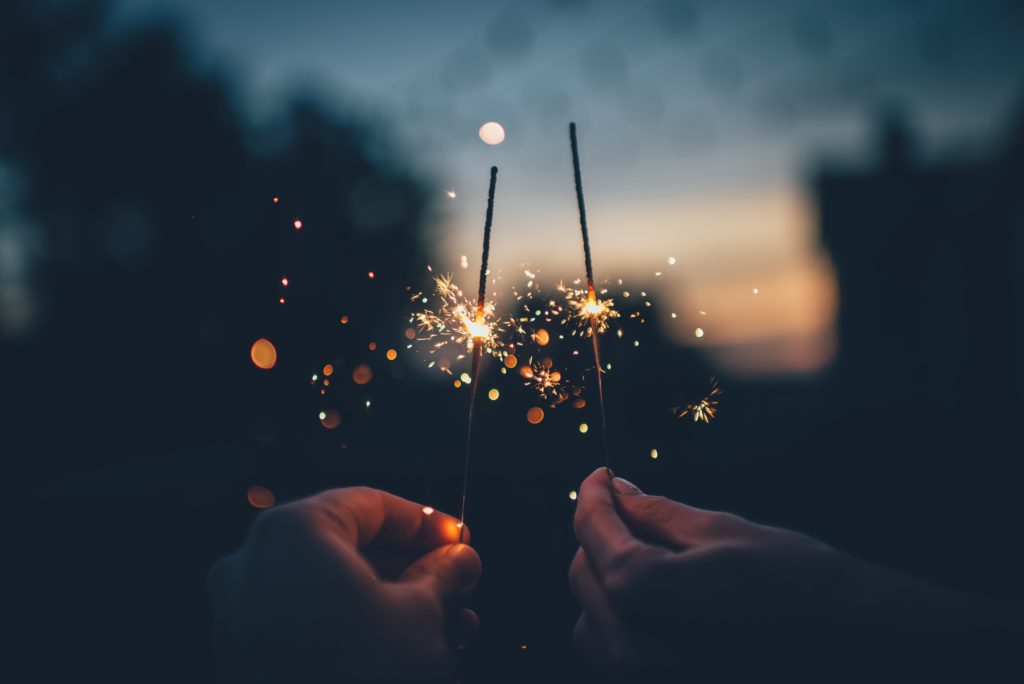 We are now accepting submissions for the third issue of The Ascendant, the official journal of AYA.
We are looking for submissions on topics such as:
astrological practices in various global geographies
astrology and intersectionality
the reconstruction of previously unknown traditional material
innovations in the application of astrology
novel perspectives on the philosophical implications of the art
visual art exploring astrological themes
If you've never written before, never fear, our editorial board is a hands-on team to help get your idea polished and ready for ink. Some of our authors have gone on to be published in The Mountain Astrologer. This is a great way to kick-start your astro-publishing career.
Our readers are interested in citations for further reading, so please make sure to footnote your sources according to Chicago Manual of Style 17.
You will be notified as soon as possible of the acceptability of your submission. AYA does not discriminate against authors and artists based on age, race, creed, gender or nationality. AYA is for young astrologers, not of them, and the journal is open to submissions from people of all ages.
Please submit your paper or artwork by January 23rd, 2019. Written submissions should be between 2500–8000 words and sent to ascendant@revelore.press . Art submissions can be black and white or full color. If larger files are being transferred please use a service such as www.wetransfer.com
If you have any questions, contact us at ascendant@revelore.press
We look forward to seeing you in the pages of The Ascendant!
Your editorial team,
Danny, Nick, and Jenn
The Ascendant Volume II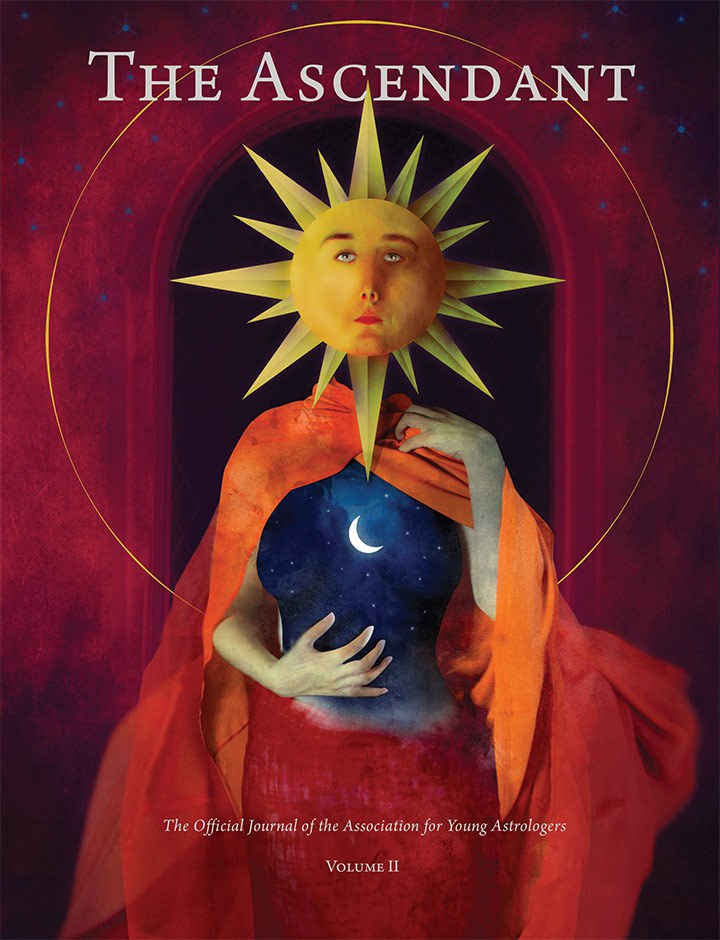 The Ascendant is the official journal of the Association for Young Astrologers. You can purchase a copy of this journal by visiting the Revelore Press website. Read the letter from the editors below to learn more about the works contained in this volume.
Dear reader,
Welcome to the second volume of The Ascendant, the literary outlet for the Association for Young Astrologers. Upholding our mission of intergenerational continuity and helping emerging astrologers enter and excel in the field, we present an ad-free blend of technical, theoretical, and historical articles with astral-inspired images by authors and artists of all ages.
Our timing for this volume, and perhaps the journal as a whole, carries a significant astrological signature. As we set about creating a new Ascendant in time for the 2018 United Astrology Conference, in Chicago, Mars conjoined Saturn in Capricorn in the ambient, which echoed the Mars/Saturn conjunction in Scorpio in 2014 that occurred when we worked on the first issue. The process has been quite intense.
As of this volume, we welcome Wade Caves, as charts editor, and Danny Larkin, the current aya president, to our editorial board. We would also like to acknowledge the pivotal labors of our outgoing president, Alia Wesala, in bringing The Ascendant back into print and securing a relationship with Revelore Press to bring out issues on an annual basis. We are grateful to Alia, our authors and artists, and everyone who worked with us to make this issue possible.
We open with a contribution by Michael MacLafferty on the question of disability in astrology. We then move to an extended examination of the astrology behind the return of Wonder Woman, by none other than Wonder Bright, which weaves together the history and astrology of Wonder Woman's creation and reëmergence. From there, we encounter artist Grant Hanna's wandering pilgrims—a rich depiction of essential dignity per planet.
The next three pieces sharpen our technical toolkit: First we have Lars Panaro giving a concise consideration of the seven Hermetic Lots; we move on to learning how to use the prenatal syzygy and the Daimon to predict violent death according to Vettius Valens with Tania Daniels; and then Cassandra Tyndall takes us through the life of Madonna to demonstrate the technique of Firdaria.
Then we discover Gary P. Caton's new findings on the long cycle of Mars and Venus, a long-awaited companion to his contribution to volume one. Switching gears to a different long view, Estebon S. R. Duarte presents a scholarly piece on the history of astrological transmission from Mesopotamia to Greece. From Greece we hop over to India, where Freedom Cole reveals a more nuanced understanding of the practice of astrology on the subcontinent.
In our first issue, J. Lee Lehman scrutinized the potential astrological markers of humanity's perilous relationship to the split atom. David Leskowitz brings attention to nuclear power again, through his exploration of how the trans-Neptunian object Berossus fits into the historical events and astrology. Pivoting ever so slightly, Kenneth D. Miller takes us through the incredible history of how Pluto got its significations.
Finally, we close the issue with a juxtaposition of new and old. Kent Bye returns to share his visions for astrology's future in 2025, and this is immediately followed by the first-ever English translation of a lecture given by philosopher Count Hermann Keyserling in Germany in 1910 about astrology and the human imagination. We end on this archival note firstly with the express wish to see more of you translating texts from relatively modern materials (not just Latin, Greek, and Arabic sources), but also to show how far we may or may not have come in the 108 years since that lecture was first delivered. After all, 108 marks the degrees of arc distance from the Sun when Saturn makes its stations—a celestial event occurring as we write this letter to you.
We are thrilled that authors, artists, and photographers from around the world contributed their work to this issue. Our contributors hail from Australia, Brazil, Bulgaria, Canada, Germany, Italy, Mexico, and the United States. A truly global effort.
On a technical note, please observe that the charts shown here depict degrees only. Since minutes are not shown, the degrees are not rounded up and you should be aware that if something reads 26º Aquarius, it indicates anyting between 26º 01' to 26º 59' Aquarius.
Welcome to the second issue of our journal, we hope you enjoy it.
Jennifer Zahrt, PhD,
Danny Larkin, AYA President
&
Nicholas Civitello