Playing With Fire: Astrological Magic with Michael Ofek
Playing With Fire: Astrological Magic with Michael Ofek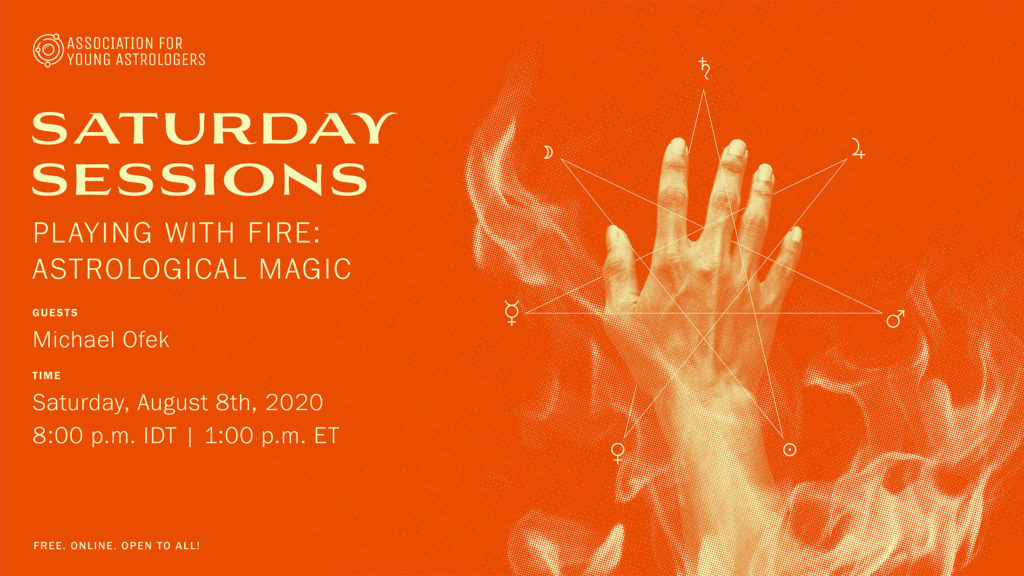 Join the Association for Young Astrologers for our monthly zoom event! This month, our usual evening gathering is Saturday, August 8 at 10am PT/1pm ET/8pm IDT to welcome our friends in time zones across the globe.

This month's guest is Michael Ofek, joining us to share his insights about the theory, philosophy, and practice of astrological magic. Michael will present his unique approach to astrological magic, based on years of research and practice, going beyond the craft of talismans. After highlighting fundamental philosophical and practical principles, Michael will share some ways we can magically engage with Mars during his long stay in Aries, intentionally participating in his nature and gaining his powerful gifts.

About Michael:

Michael Ofek is a professional astrologer, writer and teacher from Israel. He has been practicing and researching the traditional lineage of astrology, with an emphasis on Hellenistic Astrology and its connection with Greco-Egyptian Cosmology, Philosophy and Magic. His passion lies in unveiling and reconstructing the conceptual roots of the tradition and the reintegration of these ancient arts. In his work, Michael stresses the importance of direct internalized experience of astrological processes, for which he has developed a unique system, drawing on Magical, Theurgical and Shamanic practices.

Michael is an international speaker and gives workshops and lectures worldwide, including Magical/Shamanic retreats. Michael has also created one of the largest collections of Astrological Talismans available, In over a decade of cooperation with the artist David Weitzman (www.ka-gold-jewelry.com). He is also the Co-founder of the Israeli professional astrology magazine "Urania", which also produces yearly conferences and workshops.

This event will be recorded if you can't make it to the live session. Recordings are available to all members of the Association for Young Astrologers (AYA).

Membership is $20 per year, and astrologers of all ages and study levels are welcome to join!

Membership is $20 per year, and astrologers of all ages and study levels are welcome to join! Membership also gives access to a library of previous Dinner and Drinks recordings, lectures donated by pro astrologers, and other perks.

To learn more about the many benefits of AYA membership, check out our Membership Benefits, or join here!

Zoom link to join: https://us02web.zoom.us/j/87486847075

Time: Saturday, August 8th at:
10am – Los Angeles
11am – Denver
Noon – Chicago
1pm – New York
6pm – London
8pm – Jerusalem