Dinner and Drinks with Becca Tarnas: Venus Retrograde
Dinner and Drinks with Becca Tarnas: Venus Retrograde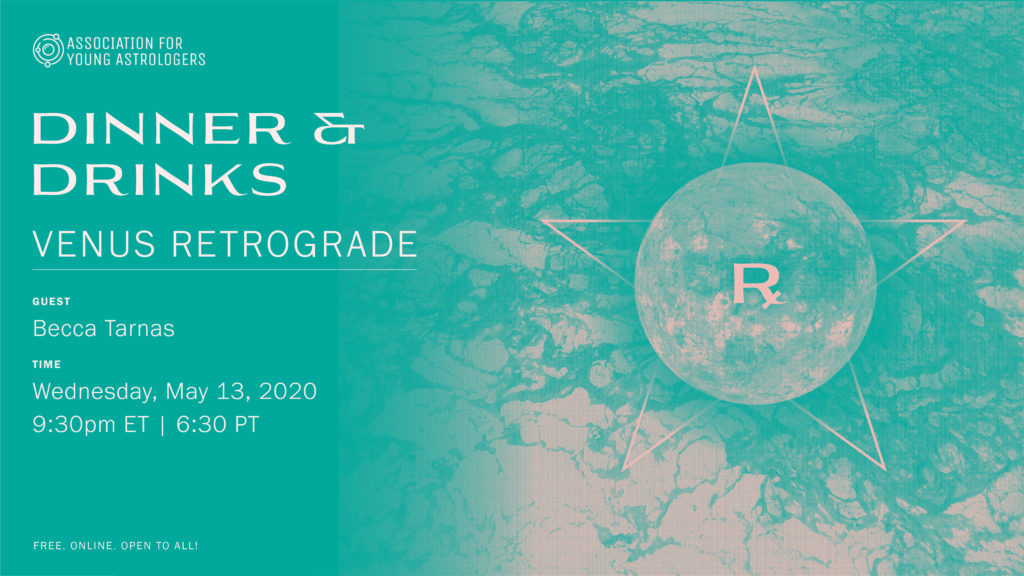 Join the Association for Young Astrologers for our monthly zoom event: Dinner and Drinks! We encourage you to bring grub, pour out a beverage, sit at your computer or with your smartphone, and join us for a casual Q&A session inspired by after hours gatherings at astrology conferences.

This month's guest is Becca Tarnas. She will share her insights about the upcoming Venus Retrograde through an archetypal lens. Our star of Aphrodite will be moving backwards through Gemini from May 12/13th, 2020 until June 25, 2020.

How can we deepen our relationship with the myth of Venus as she travels in reverse through Gemini? Venus begins her retrograde journey in a tight square within just 1º21' of Neptune. Becca will speak to this unique configuration which perfects on May 20, as well as other major aspects featured in Venus' cycle.

Join us on Wednesday, May 13 at 6:30pm PT, 9:30pm ET to explore how to use archetypes as a guide for love and relationship.
Link to join: https://us02web.zoom.us/j/82806903523
About Becca: https://beccatarnas.com/about/

This event will be recorded if you can't make it to the live session. Recordings are available to all members of the Association for Young Astrologers (AYA).
Membership is $20 per year, and astrologers of all ages and study levels are welcome to join! Membership also gives access to a library of previous Dinner and Drinks recordings, lectures donated by pro astrologers, and other perks. To learn more about the many benefits of AYA membership, check out our Member Benefits page! Not a member yet? Join here!