Dinner and Drinks with Sam Reynolds: The USA's Pluto Return
Dinner and Drinks is back in July welcoming Sam Reynolds as our guest of honor! Join us on the evening of Thursday, July 25th.

Sam will be speaking about the upcoming Pluto Return of the United States. It will be exact in 2022. As Pluto slowly approaches this point at 27° Capricorn over the next few years, this return is coming into the orb of effect.

It's hard to discuss – but the truth is that slavery, racism, economic disparities, and police brutality harken back to the founding of the United States of America. How we grapple with this difficult legacy keeps breaking through in today's headlines as inequality festers. Local police routinely direct excessive force at black and brown bodies. The USA has the highest incarceration rate in the world. For instance, men who don't happen to be white are disproportionately locked behind bars while white criminals remain free.

There are no easy answers here…. how plutonian.

Sam will also unpack a problematic insight from Liz Greene's book on Pluto. The black man has often been cast as an archetypal symbol of Pluto in western culture. Many individuals internalize the black man into their psyche and dreams as a Plutonian symbol. Does this conflation do justice to either black men or to Pluto?

Join AYA for a perspective on the Pluto return that doesn't shy away from openly acknowledging the wounds of race, slavery, economic disparities, and our relationship to safety & security with policing. Our vision is to create a safe space and container for a dialogue about the pressing issues of our time, and how to understand America's Plutonian legacy.

Find out more about Sam Reynolds – http://unlockastrology.com/
https://zoom.us/j/509348405

Call for Board Members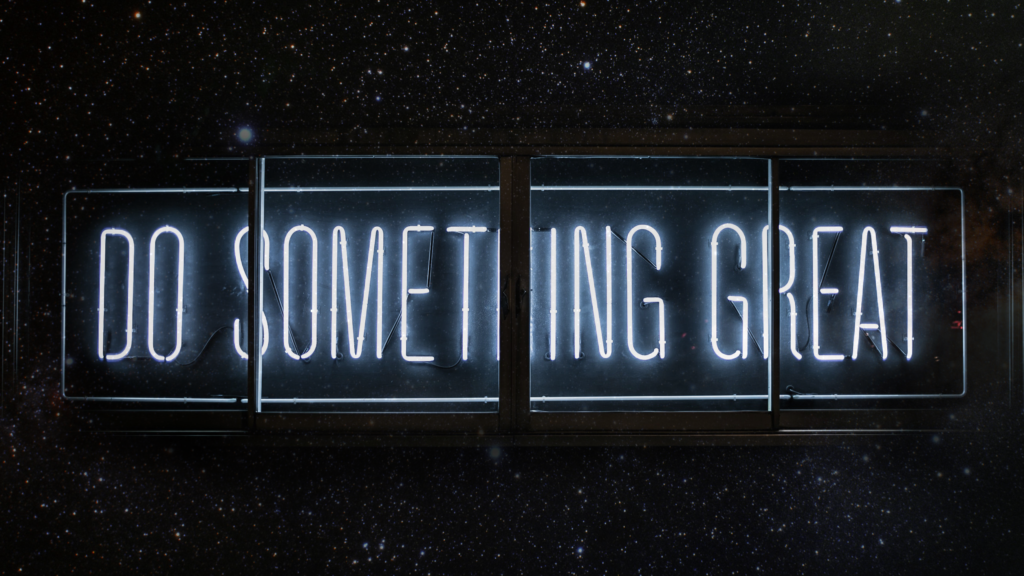 The Association for Young Astrologers is seeking two new board members to join our board: a Social Media Manager as well as a Deputy Webmaster.

Social Media Manager

AYA is seeking a Social Media Manager to work with the board to create an innovative and active social media presence for our organization. The duties of the social media manager will include:
Instagram
Tracking the astrology conversation on instagram, commenting on posts as appropriate from the official AYA Account, and coming up with proposals for how AYA can share innovative images with the community
Post the monthly "Dinner and Drinks" online event on instagram
Post Thursday Lecture highlights on instagram
Keep AYA stories updated multiple times per week with

Dinner and Drinks/other event reminders
Interesting posts from young astrologers in the community
Relevant updates on upcoming events that would benefit young astrologers

Working with the President on a series of intersections between art history and astrology and posting lesser known art with astrological resonances
Twitter
Working with the Vice President on how to elevate astrological commentary on Twitter
Post Dinner and Drinks event on twitter
Post Thursday Lecture highlights on twitter
Keep twitter updated with upcoming events at least once a week leading up to event
Retweeting posts that would be relevant to AYA's followers
Engaging and responding to tweets as appropriate
Zoom
Attending AYA's Monthly online Dinner and Drinks gathering
Working with President, Vice President, Treasurer, and Webmaster to Co-Host the Online Event
Facebook
Working with the Vice President to Create the Facebook Event for Dinner and Drinks
Competence with Photoshop, Canva, or other graphic design software to create dynamic graphics for Facebook event
Invite friends and members of the community to online Dinner and Drinks events promptly utilizing Facebook's Friend List and invite features
Voice and Brand
Working with Vice President to create and maintain a consistent voice and brand across all SM platforms for announcements, captions, etc. The voice of AYA is informal and relaxed, but clear and informative.
In addition to these duties, the Social Media Manager will keep a finger on the pulse of our online astrological community, bringing insights and trends to the board's attention as relevant. An ideal Social Media Manager is personally active on and familiar with Facebook, Instagram, and Twitter, and well equipped to navigate these platforms easily and organically. This is a collaborative position; innovation and expansion are welcomed and encouraged.
Deputy Webmaster

AYA is seeking a Deputy Webmaster to assist its webmaster with maintaining and expanding its website – www.youngastrologers.org.

WordPress
Competence with the WordPress interface
Capacity to devote 10 minutes to make quick adjustments to web content on any given business day
Willingness to work with the Webmaster on larger projects on weekends, devoting perhaps one hour per weekend
Uploading video files to the AYA website to expand its archive of video lectures as well as its archive of dinner and drinks sessions
How To Apply
To apply for either position, send us an email at youngastrologers@gmail.com describing:
Why you you're excited to join the AYA team
What makes you a great fit for the position
Please include links to your personal website and any social media handles.
All members of the AYA board work on a volunteer basis as a service to the astrological community.

The deadline for applications is March 20, 2019 at 6pm US Eastern Time: the Aries Ingress.

WEBINAR LOTTERY: Fire: The Heart of Knowing with Darby Costello
WEBINAR LOTTERY: We're giving away a free webinar to an AYA member!

UPDATE: Congratulations to our winner, Oliver Adam!
We're partnering with our friends at the Mercury Internet School of Psychological Astrology to give away a free pass to Darby Costello's webinar, Fire: The Heart of Knowing.

"Fire is the element that represents our ability to know things directly – it shows us our intuitive function. It represents the imaginal realm and is at the heart of our creative lives. It is how we 'know' things, directly. In this webinar we shall explore the realm of fire, through its signs, planets and houses."

The webinar is on Sunday, February 24th at 7:30am Pacific Time, 10:30am Eastern Time, or 3:30pm in England. You can attend live or watch the recording afterwards!

Check out all the details on the webinar here: https://www.mercuryinternetschool.com/24feb2019.html

RULES: Be a member of AYA. That's it! If you're not signed up yet, you can do that here(membership is only $20/year and everyone is welcome).

HOW TO ENTER: Cast your lot for the giveaway by sharing your hermetic Lot of Spirit in the comment section below, or by emailing it to youngastrologers@gmail.com, by February 20 at 11:59pm EST.

On Thursday, February 21st, the winner will be selected using RNG magic. We will use a randomized number generator to pick a number between 1 and 12, which will be the winning sign. Then we will then use a randomized generator to pick a number between 0 and 29, which will be the winning degree. The lot closest to this degree will be the winner!

To find your Lot of Spirit: you can use astro.com's Extended Chart Selection, and select the Chart Drawing Style "Astrodienst with Arabic points". Or you can do it old school and calculate it yourself! Patrick Watson explains the calculation (and much more) here, and Chris Brennan has a classic tutorial here.

Remember, only current AYA members are eligible!

Audaces Fortuna Iuvat… cast your lot!

Dinner and Drinks with Adam Sommer: The Lunar Nodes & Eclipses
Dinner and Drinks is back for January, this time welcoming Adam Sommer! Join us on Thursday, January 3 at 9pm Eastern, 6pm Pacific to talk all about the lunar nodes and eclipses, just in time for eclipse season. Adam is bringing his passion for the lunar nodes─ bring your questions, insights, and experiences!
As always, this even is free, casual, Q&A based, and open to everyone.test
Dinner and Drinks with Kenneth Miller: Pluto's Weird History
Join AYA for our special discussion with Kenneth Miller on Saturday, December 15, about how astrologers debated and initially disagreed about Pluto's meaning after its discovery on February 18, 1930.
This session is envisioned as a special reading group. We're asking everyone to read Kenneth Miller's article "Pluto's Weird History: Dumb luck? Dumb note? Dumbell?" in the the 2nd Volume of The Ascendant, the Official Journal of the Association for Young Astrologers. This article introduces readers to the fierce debate among astrologers about how to incorporate this new discovery into astrological practice, and how to assign its significance and meaning.
You can order your copy directly from Revelore. But in order to allow time for shipping, please place your order with Revelore by Midnight (PST) on November 21st. 100% of proceeds benefit AYA.
If you wish to order a copy of the Ascendant after 11/28, you can order through Amazon and use one of their expedited shipping options.
The Ascendant is a Print-Only Publication. Kenneth Miller's article is not available online.
Join us online on Saturday, December 15th at
8am – Hawaii – Hawaii Standard Time
10am – Los Angeles – Pacific Standard Time
11am – Denver – Mountain Standard Time
Noon – Chicago – Central Standard time
1pm – New York / Toronto – Eastern Standard Time
2:30pm – Newfoundland – Newfoundland Standard Time
4pm – Rio de Janeiro / São Paulo – Brazil Summer Time
6pm – London – Greenwich Mean Time
7pm – Paris / Berlin / Rome / Barcelona – Central European Time
8pm – South Africa – South Africa Standard Time
9pm – Moscow – Moscow Standard Time
11:30pm – India – India Standard Time
…. or Sunday, November 11th at
2am – China – China Standard Time
3am – Japan – Japan Standard Time
3am – Korea – Korea Standard Time
5am – Sydney / Melbourne – Australian Eastern Daylight Time
AYA Reads Agrippa: Three Books of Occult Philosophy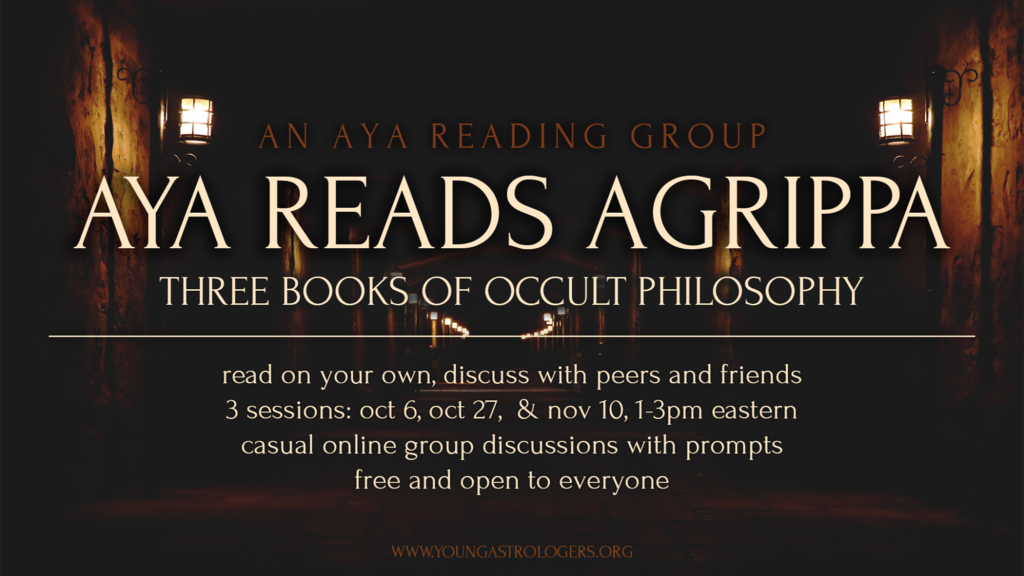 Join AYA in an online reading group to discuss planetary magic as taught by Cornelius Agrippa, famed western occultist and author of Three Books of Occult Philosophy. Across three Saturdays we'll look at several chapters in Three Books of Occult Philosophy that teach the fundamentals of planetary magic. These chapters will cover the basic requirements for completing a planetary ritual and beginning a personal relationship with each planetary spirit.
The reading group conversations will be free and open to the entire astrological community. Below you will find the dates for each reading group, the recommended translation, and the chapters we're planning to discuss.
Reading Group Meeting Dates
Saturday, October 6th 1pm – 3pm EST
Saturday October 27th 1pm – 3pm EST
Saturday, November 10th 1pm – 3pm EST
First Reading Session – Saturday, October 6th 1pm – 3pm
The first reading will cover:
Timing for planetary rituals

Images associated with the planets
Chapters:
Second Reading Session – Saturday October 27th 1pm – 3pm
The second reading will cover:
Materials associated with each planet (example: copper for Venus)

What each planet can be petitioned for (example: Sun for eminence, Mars for bravery)
Chapters:
On materials and what a planet can be petitioned for:
Third Reading Session – Saturday, November 10th 1pm – 3pm
The third reading will cover:
Names of planetary spirits

Numbers associated with planets

Fumigations used for each planet

Colors of the planets

The power of mind over matter
Chapters:
On numbers:

On names of planetary spirits:

On incense, or fumes

On colors of the planets

On mind and intention in magical work