AYA GIVEAWAY: Free Solar Fire!
AYA GIVEAWAY: Free Solar Fire!
To mark the Winter Solstice, The Association for Young Astrologers is offering a free copy of Solar Fire software to one its members!


We will be holding a lottery among our members to pick the winner. To enter the lottery, please submit your Lot of Spirit – both Sign and Degree.
You are welcome to email your lot of spirit to us at youngastrologers@gmail.com.
Solar Fire Software Requirements:
PC or compatible computer with Intel processor (or equivalent) (you can also run on MAC with a special program that enables you to run PC programs)
Windows 8, Windows 8.1 and Windows 10: 1 GB RAM minimum, 2 GB of RAM or more recommended.

About 200 MB of free disk space for a full installation.SVGA Screen with 800×600 pixels minimum, XGA with 1024×768 pixels or better is recommended; 10-inch screen or larger recommended
Membership requirements:
Current members of AYA are eligible. If you're not an AYA member yet, join for $20 annually. We welcome everyone! To join AYA or to check if your membership is still active, head over to this section of our website: JOIN NOW.

The deadline to enter the lottery is 11:59pm EST on December 31st 2019.
Dinner and Drinks with Leisa Schaim: Zodiacal Releasing Q&A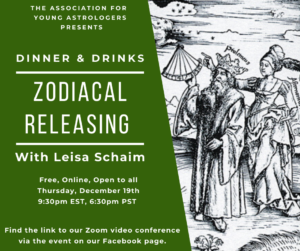 Dinner and Drinks is back in December welcoming Leisa Schaim as our guest of honor! Join us on the evening of Thursday, December 19th.

Leisa will be speaking about using the timing technique of zodiacal releasing in an astrological consulting practice. This conversation assumes knowledge of the basic idea of zodiacal releasing, which is an ancient timing technique documented by the Hellenistic astrologer Vettius Valens (120 – 175), although everyone is welcome to listen even if the topic is new to you. The English translation of his manuscript has only become widely available in the past few decades, generating significant interest around how to apply it in modern times.

If you wish to brush up on Zodiacal Releasing before this casual Q & A session, feel free to check out one or both of these resources:
Numerous astrological software programs, both paid and free, can now generate reports that utilize Valens' techniques to divide life into different chapters or segments. Leisa has been observing the correlations corresponding with this timing technique in people's charts for over a decade. She will share her insights and answer questions about interpreting these shifts in your own charts as well as in client charts.

Join AYA for an exciting conversation about the cutting edge of resurrecting ancient astrological techniques for the 21st century.

Find out more about Leisa Schaim – http://leisaschaim.com/

CLICK HERE for the Zoom meeting link.
The Astrology of Food with Catherine Urban
Dinner and Drinks is back on Thursday, November 21st at 9:30pm Eastern / 6:30pm Pacfic, welcoming Catherine Urban as our guest of honor.
What are you cooking for the winter holidays? Did you know the astrological resonances of certain foods? Imagine finessing your holiday dinner with a menu that vibes with the charts of your guests.
Join us for a casual Q & A conversation about astrology and food with Catherine Urban. Her new book "Your Astrological Cookbook: The Perfect Recipe for Every Sign" is out now.
Catherine Urban is a professional astrologer based in Cleveland, Ohio. She is certified at Level 4 by the National Council for Geocosmic Research (NCGR-PAA IV). She has served on the board of the Lake County Astrological Association (LCAA), taught webinars for the International Academy of Astrology, and has lectured locally with LCAA on several occasions. In 2019, she has begun speaking at astrology conferences – including the Great Lakes Astrology Conference and NCGR-NYC's Fall Education conference.
https://www.catherineurban.com/about
Bring ALL your juicy and foodie questions.
Join us here: https://zoom.us/j/666236906
The Astrology of Spirituality & Religion with Nate Craddock
Dinner and Drinks is back on October 17, welcoming Nate Craddock as our guest of honor!
It's no secret that astrologers and occultists often have stories that include a major shift in worldview, sometimes including trauma. Whether that's from hardline materialism and atheism, or from heavily religious backgrounds in Christianity, spiritual or existential upheaval of some kind is common in the stories of our fellows. Nate is joining us to talk all about the significators of religion and spirituality in the natal chart, and how that can be used in a consulting setting to help clients untangle their religious trauma.

Nate's background gives him a unique perspective and especially tender hand in handling this delicate subject, as a preacher's kid turned astrological magician, who is also an ordained priest and professional astrologer.

Bring ALL your juicy and controversial questions, and let's journey to the 9th house and back together!

Nate Craddock is a professional astrologer with a specialization in classical horary and an ordained priest who serves a congregation of the United Church of Christ. Find out more about Nate at https://soulfriendastrology.com/.
Join us here: https://zoom.us/j/876800522
Q&A with Lisa Stardust: Professional Horoscope Writing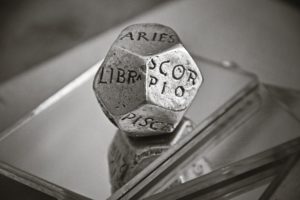 Lisa will be leading a Q & A about professional horoscope writing. She writes horoscopes and astrology content for British Vogue, Teen Vogue, Cosmopolitan, Girlboss, Bust, The Hoodwitch, Swipe Life, Medium, and other publications.

Some of the questions, we will be exploring include:
What techniques you use to create horoscopes for the 12 sun signs
How to create a daily, weekly or monthly horoscopes

How to web content fresh, exciting, and newsworthy

The most common mistakes young astrologers make during their first horoscope writing gigue

There will be ample time to ask Lisa Stardust other questions as well. Join us for a casual Q & A conversation about how to make the leap into horoscope writing!

Find out more about Lisa Stardust : https://lisastardust.com/
Check out the link to the meeting: https://zoom.us/j/830809322
2019 NCGR Conference
The Association for Young Astrologers will be hosting a series of gatherings in the evenings at the 2019 NCGR conference. We will meet in the AYA Lounge on the Ground Floor of the Hotel.

Our theme will be planetary magick, ritual, and myth. After a day of learning, we will gather to enter into a ritual space, release stress, integrate, and deepen our connection with the sacred.

Our choice of planets reflects the scheme of Planetary nights proposed by the medieval astrologer Guido Bonatti. During each night of the week, a different planet presides as opposed to the planet the day is named after. We are grateful to Benjamin Dykes for his translation as well as Austin Coppock for his work drawing out this doctrine and revealing it in the fabric of modern life.

We will serve herbal tea that aligns with the planet of the night's energy. Essential oil aromatherapy that honors each planet will be thick in the air. We will ponder myth, consider brief excerpts from ancient astrological treatises, and learn about sacred sites in Greece that honor the planetary deity. We are open to collaborating in real time with any other astrologers who wish to co-create sacred space with us that honors the planet of the night. Text AYA's President Danny Larkin on 917-504-4069, e-mail him at danielblarkin@gmail.com or drop by the recording desk during the conference where he will he working.
Here is the schedule. The start time varies depending on the evening's conference events. The meeting place will be the AYA Lounge on the Ground Floor.

This paged will be updated frequently as events evolve.
1. Friday, August 30th – 8:30pm – Mars Planetary Magick
Aromatherapy: Ginger Essential Oil
Tea: Ginger Tea
Co-Lead by Danny Larkin and Maria Wander
---
2. Saturday, August 31st – 7pm – Mercury Planetary Magick
Aromatherapy: Cinnamon Bark Essential Oil
Tea: Licorice
---
3. Sunday, September 1st – 11pm – Jupiter Planetary Magick – Banquet Afterparty – Find Danny on the dance floor – we will begin the session after the last song. Come dance with us first!
Aromatherapy: Peppermint Essential Oil
Tea: Peppermint
---
4. Monday, September 2nd – 7pm – Venus Planetary Magick

Aromatherapy: Rose Essential Oil
Tea: Rose
---
Dinner & Drinks with Annabel Gat: The Astrology of Love and Sex
Dinner and Drinks is back in August – welcoming Annabel Gat as our guest of honor! Join us on the evening of Thursday, August 15th at 9:30pm EDT / 6:30pm PDT
Annabel will be leading a Q & A about the astrology of compatibility. Her new book The Astrology of Love and Sex introduces readers to this rich topic.
How do we answer questions from clients and friends like which sun sign should I date? How can we use knowledge of our own significant other's chart to improve the relationship? What if we meet an editor at a party who is interested in publishing our work and we have to give an "elevator pitch" on astrology, which is such a vast and complex subject, to someone who is a complete beginner?
Join us for a casual Q & A conversation about astrology and dating.
Find out more about Annabel Gat – https://www.annabelgat.com/
Join the meeting here: https://zoom.us/j/441627102

Dinner and Drinks with Sam Reynolds: The USA's Pluto Return
Dinner and Drinks is back in July welcoming Sam Reynolds as our guest of honor! Join us on the evening of Thursday, July 25th.

Sam will be speaking about the upcoming Pluto Return of the United States. It will be exact in 2022. As Pluto slowly approaches this point at 27° Capricorn over the next few years, this return is coming into the orb of effect.

It's hard to discuss – but the truth is that slavery, racism, economic disparities, and police brutality harken back to the founding of the United States of America. How we grapple with this difficult legacy keeps breaking through in today's headlines as inequality festers. Local police routinely direct excessive force at black and brown bodies. The USA has the highest incarceration rate in the world. For instance, men who don't happen to be white are disproportionately locked behind bars while white criminals remain free.

There are no easy answers here…. how plutonian.

Sam will also unpack a problematic insight from Liz Greene's book on Pluto. The black man has often been cast as an archetypal symbol of Pluto in western culture. Many individuals internalize the black man into their psyche and dreams as a Plutonian symbol. Does this conflation do justice to either black men or to Pluto?

Join AYA for a perspective on the Pluto return that doesn't shy away from openly acknowledging the wounds of race, slavery, economic disparities, and our relationship to safety & security with policing. Our vision is to create a safe space and container for a dialogue about the pressing issues of our time, and how to understand America's Plutonian legacy.

Find out more about Sam Reynolds – http://unlockastrology.com/
https://zoom.us/j/509348405

Dinner & Drinks: The Astrology of RuPaul
Dinner and Drinks is back in June welcoming Shawn Nygaard as our guest of honor! Join us on the evening of Thursday, June 27th.
Shawn is passionate about exploring RuPaul's natal chart. As we mark the 50th anniversary of Stonewall, it's a fascinating look at a queer person who blazed their own path. RuPaul has a natal Saturn in Capricorn and uniquely embodies the Senex and Puer dichotomy. It's a whole different way to rock Saturn.
Join AYA for a light-hearted (and serious) conversation about RuPaul, Drag, queerness, and the role of creativity in breathing life into planetary energies.
Find out more about Shawn – https://www.imagineastrology.com/about-shawn
Access the meeting on June 27th at this link https://zoom.us/j/961299102
Astrology As Self-Care: Dinner and Drinks with Stacia Secreriat
Dinner and Drinks is back in May welcoming Stacia Secreriat as our Dinner and Drinks guest of honor!
Stacia is passionate about using the natal chart to optimize self-care, cultivate compassion towards the self, and balance planetary energies in the chart.
Knowing ourselves well, and understanding our own motivations and needs leads us to be able to tend to those needs in a deeper way than we could without astrology. This is the crux of Stacia's client work, helping people care for themselves using their own unique placements.
She's joining us May 30, 9pm Eastern/6pm Pacific to share her wisdom and answer your questions.
From Stacia's website, Moon Deep Astrology:
"Just like a doctor can look at a patient's vital chart and make a diagnosis to find appropriate cures, so can astrologers look to a natal chart to find signatures of physical, emotional and spiritual ailments and their remedies. A medical vital chart is exactly what the name implies: a record of a patient's vitals; their literal patterns of life through heartbeat, breath, and the body.
Astrology uses a natal chart to find the energetic patterns in your personality and earthly vehicle. Understanding your chart can not only help you understand these "vitals" better, but also help you realize your highest potential. Astrology can help us feel better physically, mentally, and emotionally. We can use it to be more productive, be more relaxed, treat inflammation in the body, heal emotional trauma, or literally any thing that might "ail" us. Understanding our astrological tendencies can be a great place to start looking for treatment or acceptance of our current issues."
Find out more about Stacia at https://moondeepastrology.com/
Join us online at https://zoom.us/j/131989276 on Thursday, May 30th at:
4pm – Hawaii – Hawaii Standard Time
6pm– Los Angeles – Pacific Standard Time
7pm – Denver – Mountain Standard Time
8pm – Chicago – Central Standard time
9pm – New York / Toronto – Eastern Standard Time
10pm – Halifax / Charlottetown – Atlantic Standard Time
10:30pm – Newfoundland – Newfoundland Standard Time
and….
Friday, May 31st at:
Midnight – Rio de Janeiro / São Paulo – Brazil Summer Time
2am – London / Greenwich Mean Time
3am – Paris / Berlin / Rome / Barcelona – Central European Time
4am – South Africa – South Africa Standard Time
5am – Moscow – Moscow Standard Time
7:30am – India – India Standard Time
10am – China – China Standard Time
11am – Japan – Japan Standard Time
11am – Korea – Korea Standard Time
1pm – Sydney / Melbourne – Australian Eastern Daylight Time
3pm – Auckland – New Zealand Daylight Time
Q&A with Rod Chang: Black Holes and the Galactic Center
Your favorite AYA Q&A event is back on April 27, this time on Saturday to reach our friends around the globe! Rod Chang is joining us to talk all about the new images of the black hole at the center of galaxy M87 near the Virgo galaxy cluster. This week marks the first time humanity has ever been able to clearly picture a black hole.
From these images, we can glean insights into the black hole at the center of our own Milky Way galaxy, known as the Galactic Center. It currently aligns with 27 degrees of Sagittarius on the ecliptic, and many modern astrologers detect a special energy at this degree ─ in some ways similar to a fixed star's charge ─ but in other ways in a league of its own.
Join us for an discussion about black holes and how to integrate the galactic center into your work with astrology charts and the dynamics of contact with the 27th degree of Sagittarius.
Rod and Jupiter Lai co-founded the Academy of Astrology (AOA), which is the premier school teaching western astrology in Asia. Rod Chang has over 20 years' astrological experience, and has studied at the UK's Faculty of Astrological Studies. In 2018, Rod was a guest tutor at the Faculty's Summer School at Oxford where he taught a workshop on the galactic center.
This event is the classic Dinner and Drinks format you know and love, this time accommodating brunch and tea times for our friends across the world's time zones!
MEETING LINK: https://zoom.us/j/802352550
Join us online on Saturday, April 27th:
10am – Los Angeles – Pacific Daylight time
11am – Denver – Mountain Daylight Time
Noon – Chicago – Central Daylight Time
1pm – New York / Toronto – Eastern Daylight Time
2pm – Halifax – Atlantic Daylight Time
2:30pm – Newfoundland – Newfoundland Daylight Time
2pm – Rio de Janeiro / São Paulo – Brazil Time
6pm – London – British Summer Time
7pm – Paris / Berlin – Central European Summer Time
7pm – Johannesburg – South Africa Standard Time
8pm – Moscow – Moscow Standard Time
10:30pm – New Delhi – India Standard Time
1am – Shanghai – China Standard Time
2am – Tokoyo – Japan Standard Time
3am – Sydney – Australian Eastern Standard Time
Call for Board Members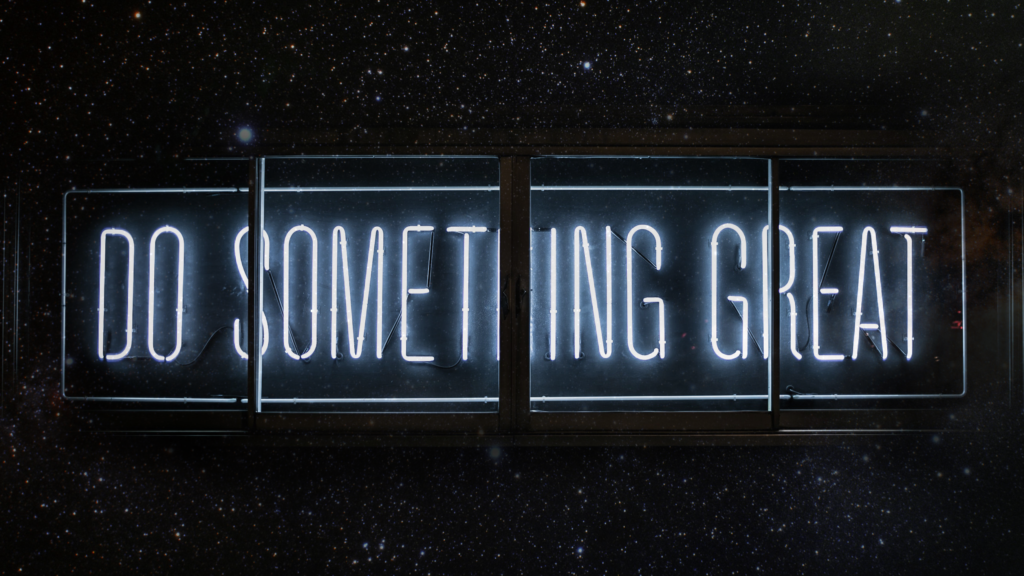 The Association for Young Astrologers is seeking two new board members to join our board: a Social Media Manager as well as a Deputy Webmaster.

Social Media Manager

AYA is seeking a Social Media Manager to work with the board to create an innovative and active social media presence for our organization. The duties of the social media manager will include:
Instagram
Tracking the astrology conversation on instagram, commenting on posts as appropriate from the official AYA Account, and coming up with proposals for how AYA can share innovative images with the community
Post the monthly "Dinner and Drinks" online event on instagram
Post Thursday Lecture highlights on instagram
Keep AYA stories updated multiple times per week with

Dinner and Drinks/other event reminders
Interesting posts from young astrologers in the community
Relevant updates on upcoming events that would benefit young astrologers

Working with the President on a series of intersections between art history and astrology and posting lesser known art with astrological resonances
Twitter
Working with the Vice President on how to elevate astrological commentary on Twitter
Post Dinner and Drinks event on twitter
Post Thursday Lecture highlights on twitter
Keep twitter updated with upcoming events at least once a week leading up to event
Retweeting posts that would be relevant to AYA's followers
Engaging and responding to tweets as appropriate
Zoom
Attending AYA's Monthly online Dinner and Drinks gathering
Working with President, Vice President, Treasurer, and Webmaster to Co-Host the Online Event
Facebook
Working with the Vice President to Create the Facebook Event for Dinner and Drinks
Competence with Photoshop, Canva, or other graphic design software to create dynamic graphics for Facebook event
Invite friends and members of the community to online Dinner and Drinks events promptly utilizing Facebook's Friend List and invite features
Voice and Brand
Working with Vice President to create and maintain a consistent voice and brand across all SM platforms for announcements, captions, etc. The voice of AYA is informal and relaxed, but clear and informative.
In addition to these duties, the Social Media Manager will keep a finger on the pulse of our online astrological community, bringing insights and trends to the board's attention as relevant. An ideal Social Media Manager is personally active on and familiar with Facebook, Instagram, and Twitter, and well equipped to navigate these platforms easily and organically. This is a collaborative position; innovation and expansion are welcomed and encouraged.
Deputy Webmaster

AYA is seeking a Deputy Webmaster to assist its webmaster with maintaining and expanding its website – www.youngastrologers.org.

WordPress
Competence with the WordPress interface
Capacity to devote 10 minutes to make quick adjustments to web content on any given business day
Willingness to work with the Webmaster on larger projects on weekends, devoting perhaps one hour per weekend
Uploading video files to the AYA website to expand its archive of video lectures as well as its archive of dinner and drinks sessions
How To Apply
To apply for either position, send us an email at youngastrologers@gmail.com describing:
Why you you're excited to join the AYA team
What makes you a great fit for the position
Please include links to your personal website and any social media handles.
All members of the AYA board work on a volunteer basis as a service to the astrological community.

The deadline for applications is March 20, 2019 at 6pm US Eastern Time: the Aries Ingress.