Dinner and Drinks with Cassandra Tyndall: Aversion
Jo Gleason
January 11, 2019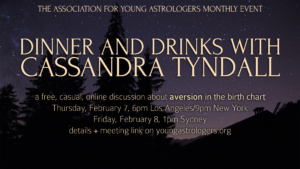 Join AYA for an online conversation with Cassandra Tyndall about the concept of aversion in ancient astrology, and how it can illuminate today's work with horoscopes.
In Hellenistic astrology, luminaries and planets cast 'rays of light', which enabled them to see certain houses and the planets occupying them. Sight was a crucial metaphor for the ancient understanding of the sextile, square, trine and opposition. But some houses could not be seen. What happens when the Lord of a house cannot see the sign it rules? Aversion illuminates the blind spots in a birth chart. Join us for a dialogue about how metaphors of vision and aversion can reveal connections between the house topics in the birth chart. Add this valuable tool to your delineation kit!
Click here to join the Zoom meeting on February 7: https://zoom.us/j/871157438
Join us online on Thursday, February 7th at
4pm – Hawaii – Hawaii Standard Time
6pm– Los Angeles – Pacific Standard Time
7pm – Denver – Mountain Standard Time
8pm – Chicago – Central Standard time
9pm – New York / Toronto – Eastern Standard Time
10pm – Halifax / Charlottetown – Atlantic Standard Time
10:30pm – Newfoundland – Newfoundland Standard Time
and….
Friday, February 8th
Midnight – Rio de Janeiro / São Paulo – Brazil Summer Time
2am – London / Greenwich Mean Time
3am – Paris / Berlin / Rome / Barcelona – Central European Time
4am – South Africa – South Africa Standard Time
5am – Moscow – Moscow Standard Time
7:30am – India – India Standard Time
10am – China – China Standard Time
11am – Japan – Japan Standard Time
11am – Korea – Korea Standard Time
1pm – Sydney / Melbourne – Australian Eastern Daylight Time
3pm – Auckland – New Zealand Daylight Time